EVERYTHING YOU NEED TO HEAL - DELIVERED IN 1-3 DAYS!
Pink Pepper Co is proudly owned by a breast cancer survivor. Once she found out she was having a mastectomy, she quickly got to work on designing products to help her get through the healing phase. Now she works full time making these products for you! She knows what you need after surgery, and that you need it quickly! Be sure to check out the Blog section to read more about Leslies story, and to learn how to prepare for surgery from her experience.
Not sure what you need? Click Here!
NO ONE SHIPS FASTER THAN PINK PEPPER CO!!!
NEW Easy Fit Mastectomy Shirt
After a breast surgery, like a mastectomy, drain tubes are installed. These tubes cannot be left hanging free. Also, you will have limited mobility in your arms, which makes getting dressed difficult. That's why this mastectomy top is essential to the healing process. Each mastectomy Shirt holds up to 2 drains on each side. It keeps them secure and in place, and therefore keeps you comfortable. These Shirts are PERFECT for sleeping in. They feature an open front for easy on-off, even with limited mobility, and makes it easy to get to the drains for daily maintenance.
(US Pat D816301)
See More
---
How Fast Can You Ship?
✓ Orders are shipped right away, and delivery is only 1-3 days.
✓ If needed faster, Express Shipping is a 1-2 day delivery, depending on location.
---
Breast Surgery Chest Pillow
This is a must have after any breast or chest surgery. This Mastectomy Pillow is perfect for the ride home from the hospital, protecting your surgery area from pets or children, and to keep you comfortable while you are sleeping. Optional pocket too! Made from a very soft and breathable cotton - they feel amazing!
See Fabric Options
The Drain Holding Hoodie
This mastectomy jacket features a lightweight, super soft fabric that is perfect for sensitive skin.  Extra large pockets for multiple drains, or even larger items like heart monitors!
See More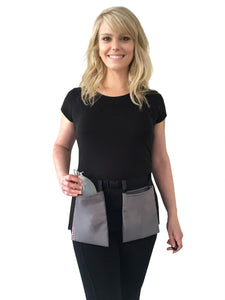 Mastectomy Drain Belt
A great way to hold multiple drains securely, while still looking stylish. The belt is totally adjustable without leaving any ties or tails hanging
More Info
The Complete Gift Pack
All of us want to send a gift that reaches the heart – that makes a difference in someone's life. Flowers are beautiful, but what your loved one needs right now is comfort and reassurance. Our pillows are like a warm hug, and our shirts bring comfort to an uncomfortable situation. The 3 Pack is a gift they will remember!
See Options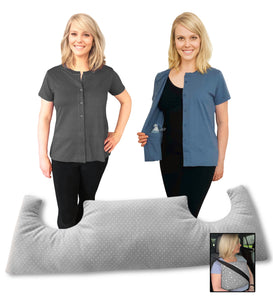 Mastectomy Surgery Shirt Features:
Open Heart Surgery Pillow
THE ORIGINAL open heart surgery chest surgery pillow! Hidden pocket for ice pack or cell phone. Super soft and provides underarm comfort, while supporting and protecting the chest. Great for the entire healing process. IN STOCK NOW!
See Options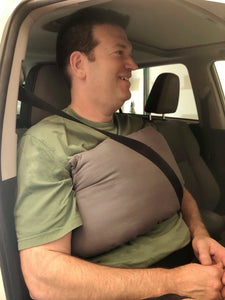 Blog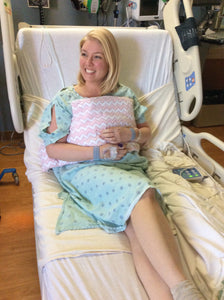 Just found out you need surgery for your Breast Cancer and you're scared, but…. It's Not Time For That! Getting ready for your surgery is an emotional time.  I have been there!...